Hiatus has yet again become me! I know I do not have to go into major dets about how hard it is to run a blog, as I am sure most of you already know it can be time consuming! But I have been so busy with other things... like, distressing furniture... or adopting a new furbaby... and trying to keep up with all the holidays/Army Wife Life! It's been a little hectic! And hectic means quick & easy dinners! I have made several new recipes that we love & I have added to my cookbook! Usually I won't eat chicken on the bone, unless its a drumstick, but this recipe is a great cheap one & its not too bad for you ither...MUCH better than fried chicken!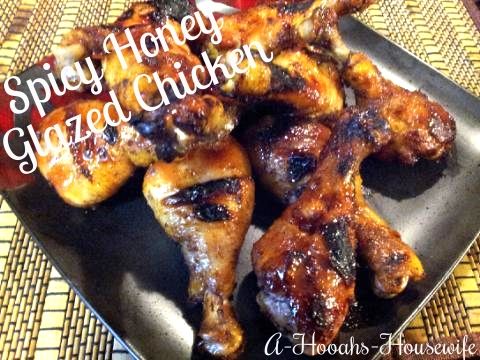 Spicy Honey Glazed Chicken
1 pk. chicken drumsticks
1 tsp. kosher salt
1 tsp. black pepper
1 tsp. red pepper flakes
1 tsp. chili powder
2 tsp. garlic powder
1/2 c. honey
2 TBSP. apple cider vinegar
Mix spices & set aside.
Mix honey & vinegar, set aside.
Cover both sides of chicken with spice mix, set on sheet pan lined with foil & sprayed with non-stick spray. Cook in a 350' oven for 30 mins (cooking time may vary a bit depending on oven), flipping half way through. Then turn broiler on high and cook 5-7mins on one side, then flip & cook another 5-7mins.
Now baste the chicken with honey mixture, be sure to really cover it with the mixture. Add to oven again & let it cook until the honey starts to thicken up & glaze. You can add another swipe of honey mix if you like it sticky!
Take it out of oven, let rest for 5-10 mins before serving.