As ALWAYS, I look for new recipes to add to our weekly menu. I found a recipe in my stash that has gone unnoticed for as long as I've had all of my random clippings. I do not know which magazine it can from but kudos to whichever! I decided to give it a try after my sister picked it out of the bunch. THIS was a hit! I liked the fact that it is a light dish & that it is simple & easy! I did a few altercations & it still turned out great! I used wheat pasta, added a little extra EVOO & a heavy hand with the chili powder...it turned out deeee-lish! I pulled this from the pile to add to our favorites so it will definitely be cooked again! (: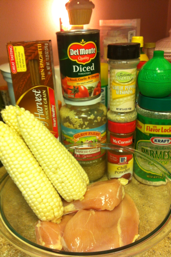 6oz. angel hair pasta
3 ears fresh corn, cut from cobb
4 small skinless boneless chicken breasts, cubed.
1 can petite diced tomatoes, drained.
(I used hunts italian seasoned)
Cook pasta in boiling salted water according to package. Cut corn from cobb; add to pasta last 2 minutes of cooking. Drain; rinse with cold water.
Meanwhile, sprinkle chicken with 1tsp. of chili powder and 1/4tsp. each salt & pepper. In skillet, cook chicken in 1Tbsp. hot oil over medium heat 8-10 mins or until chicken is no longer pink, turning once. Mix in tomatoes while still warm to heat tomatoes.
Combine remaining oil, chili powder, lime juice in with tomatoes & chicken, mix well. Then in large bowl mix the chicken mix with the pasta until well blended.
***also can sprinkle with parm cheese, makes it yummier!!!