I don't know about you guys, but I L.O.V.E me some Chinese Buffet! It never fails, every time I go, I get the same thing! My absolute favorite thing there is the Black Pepper Chicken & their Baked Crab(you know, the one with all that cheese!?). To make things even better, we found a little hole in the wall Chinese place right up the street from us that actually makes it for carry-out orders! However, since dieting, it is SUPER unhealthy because it is breaded & deep fried. So, I decided to make up my own recipe & all I have to say is "MOVE OVER CHINESE RESTAURANTS, THERE IS A NEW ASIAN COOK IN TOWN"! Haha, but no, forrealiooo, this chicken is seriously better than the restaurants & I am so addicted! Mr.Hooah is even a big fan too... So much so, that we have it sometimes two nights a week! It is MUCH better for you than the deep fried stuff that is then wok-fried with the sauce they use etc... I'm actually Korean for those of you that do not already know that & I feel like I'm getting in touch with my asian roots on this one because I don't know how I pulled it off but I did! This is super yummy & easy! Hope you enjoy!<----- too bad I don't know how to say that in Korean haha!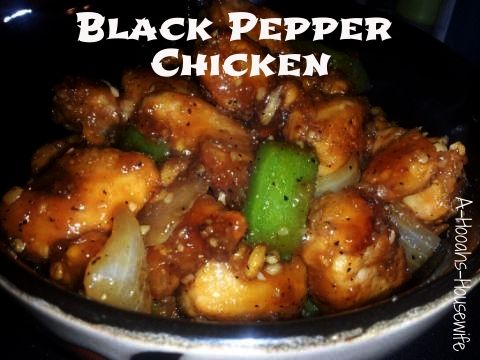 Black Pepper Chicken
1 pk. boneless, skinless chicken breasts, cut into bite size pieces
1 green or red pepper, roughly chopped
1 onion, roughly chopped
2-4 TBSP. cornstarch in a ziplock bag
1- 1 1/2 c. lite soy sauce (reserve 2-3 TBSP.)
Black pepper (to taste)
1-2 TBSP. minced garlic
2 TBSP. EVOO
1/4 c. honey (or to taste)
Place chicken in a bowl & pour soy over top, stirring to make sure all of the chicken gets some soy-love. Cover with lid & let marinate for 15mins or so. (I usually do this while I am cutting up the veggies & getting everything else prepped!)
When chicken is done marinating, spoon out your 2-3 TBSP's of soy & set aside...then drain chicken with strainer.. now is the time to heat the EVOO in a non-stick pan..Place chicken into the bag with the cornstarch. Give it a few good shakes, making sure chicken is evenly coated & then pour into pan. Cook on med-high heat until the chicken starts to brown a little, then add in your onions, peppers, & garlic...continue cooking until chicken is golden brown & cooked through.
Now lower heat to med-low & add in reserved soy sauce, the honey, & sprinkle black pepper (to taste..I usually sprinkle it around 2-3x). Stirring constantly until the sauce thickens a bit...Let stand at least 5-10 mins for sauce to set.