I know that I have had to have mentioned it before, but just incase I didn't, I love watching Food Network & I have to confess, I am kinda obsessed with Ree Drummond. Ok & that was a really long run-on sentence! I love that Ree is real & puts some love into her cooking. I've learned some pretty handy tips from her as well just by watching her show. Any who, I have yet to make a recipe of hers that Mr.Hooah & I didn't like. I have made several of them but Mr.Hooah & I have two favorites, this Chicken Spaghetti recipe is one of them. (The other is shortly to come since summer is on the way soon!) I, as always, try to make my recipes as healthy as possible & of course I made this recipe & tweaked it in my own way, but you can find the original recipe here The Pioneer Woman's Chicken Spaghetti Recipe! I will add the side note that I did use the 2 cups of chicken stock & towards the end of cooking I did a sneak-peek & it was definitely looking very "juicy", but after taking it out of the oven you MUST let it rest & the liquid absorbs & it turns out just beautifully & creamy! Bon Appetit!
-Happy St. Patty's Day & XO
Chicken Spaghetti
3 Boneless Skinless Chicken Breasts, boiled
& roughly chopped
1 pk.
Spaghetti, Broken Into Two Inch Pieces
2 cans
Cream Of Mushroom Soup
2c.
Grated Sharp Cheddar Cheese
1/2 of a
Finely Diced Green Pepper
1/2 of a Finely Diced Red Pepper
1/4c.
Finely Diced Onion
1 jar
(4oz.) Diced Pimentos, Drained
2c.
Reserved Chicken Broth From Pot
1
-2 TBSP. Beer Can Chicken Seasoning
1/4 tsp. Cayenne Pepper
Salt And Pepper, to taste
1c.
Additional Grated Sharp Cheddar Cheese
Boil the chicken breasts until cooked through & then roughly chop up to make 2cups(I had a little over 2cups but used it all, the more the merrier, right?!)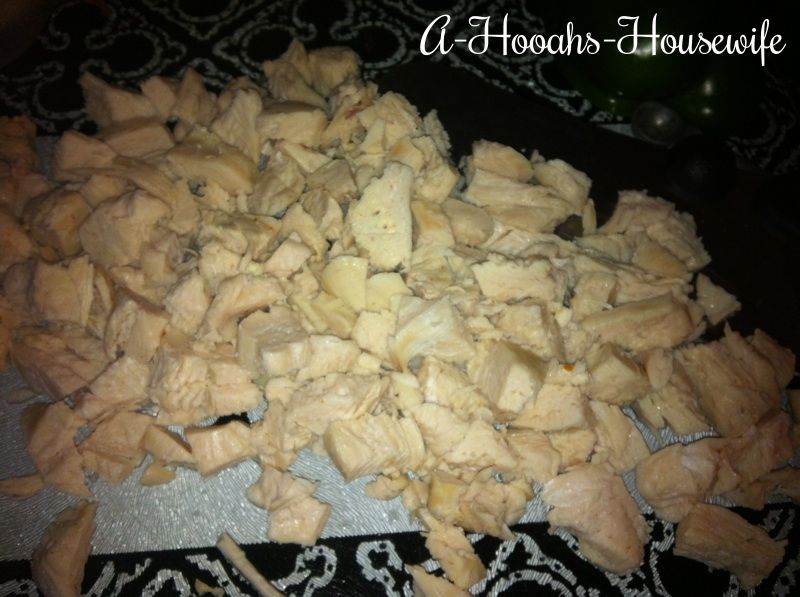 Cook spaghetti in same chicken broth until al dente, about 9minutes. Do Not Overcook. When spaghetti is cooked, combine with the remaining ingredients except the additional 1 cup of sharp cheddar.
Place mixture in casserole pan & top with remaining cheese.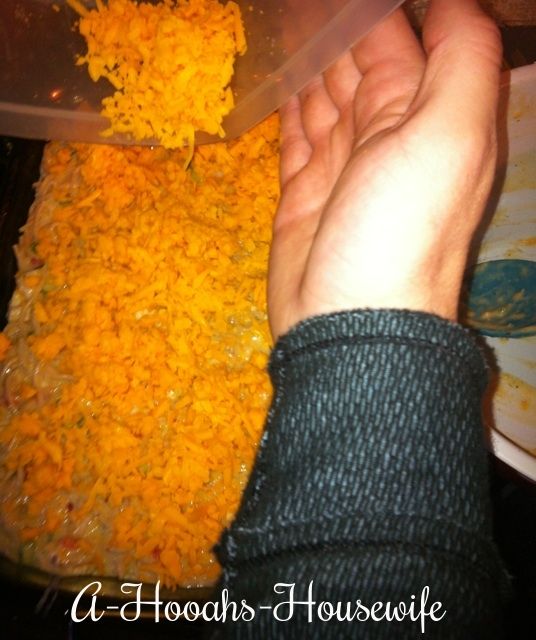 MAYBE IT'S ROMANCE OR MAYBE IT'S JUST THAT WE LIKE QUALITY TIME TOGETHER, BUT MR.HOOAH & I COOK TOGETHER SOMETIMES & HE WANTED TO HELP ON THIS ONE, SO HE GOT PUT ON CHEESE-DUTY HAHA!
Bake at 350 degrees for 45 minutes until bubbly. (If the cheese on top starts to get too cooked, cover with foil). If it is still a little "juicy" when you take it out of the oven, LET IT REST, so the juices will absorb & it will be perfectly creamy & delicious!