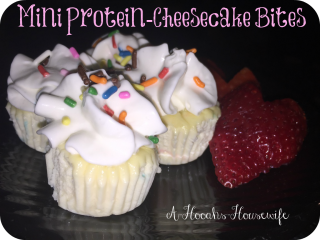 With the NEW year being here, we all have our resolutions...... Most of them being budgeting or gym related... Haha, mine is BOTH! Along with a few other things. I want to start cutting out more carbs, go to the gym at least 5x a week, & eat better...cleaner. With that being said, I saw someone on my IG that made her own protein cheesecake & I thought, "Uh, Why don't you do that?!"... and so I did! I honestly didn't know what exactly I was doing (the 1st batch turned out horrible), but with some tweaking, I figured it out! I knew that I would eat the whole darn thing if I made an entire cheesecake, between that & it being my first time (and scoring some mini-cupcake liners from the 'After Christmas Sale' at walmart lol), I opted for going "mini". I seriously can't believe how good these were & even Mr.Hooah will vouch for that! He loved them! I will definitely be making them again from time to time, to cure that sweet tooth craving that I so often have nowadays! It is definitely a lightened-up/healthier cheesecake, you can tell. And the protein is definitely noticeable, but not in a bad way. If you're looking for something sweet & packed with protein, but better for you than the norm cheesecake, then this is the way to go! Hope you enjoy this recipe & add it to your stash of other healthy noms!
-XO
Mini Protein Cheesecake Bites
(
You can easily adjust the recipe/cooking time if you want to make a full size cheese cake, just use 1.5cups where it calls for 3/4cup, 2eggs/2eggwhites, 2scoops protein, & 2pks fatfree creamcheese!
)
1 scoops of protein powder (I used CELLUCOR: Cor-Fetti Cake Batter)
1 (8oz.) pks. fat-free cream cheese, softened.
3/4c. plain greek yogurt
3/4c. stevia
1 egg
1 egg white
1tsp. vanilla extract
Mix everything together in mixer until smooth.
Pour evenly into you cupcake liners, bake for 250'F for 15mins. Cool on stove then place into refrigerator to chill before you serve.
Great with fresh fruit or sugar-free caramel on top!