This is my first post, so, I'm trying to start out simple & easy...as I have started this on my own & I'm not quite sure
what I am doing! I have recently relocated due to my husband being stationed farther north & I am just looking to make our cozy little "brady-bunch" house a home...I found these card-board letters & scrap-booking papers, 1/2 off at HobbyLobby so, I bought them for a rainy day! Extremely cheap & easy DIY faux-fabricated letters! And yes, I just HAD to go patriotic on this one! (:
(Note that I tried out different designs...)
ok, so u will need everything shown below, also some left over ribbon & a hot glue gun.
First, turn the craft paper over to the white side on the back & center your letter, use a pen or pencil & trace around the edges...cut out your letters.
They should look like this when you're finished(:
I used an elmer's glue pen to glue the paper to the letters, just smooth out any wrinkles with your fingertips...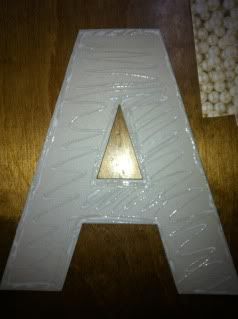 I used some leftover ribbon I had & my handy-dandy hot glue gun to make ribbon loops for hanging on the backside of the letters after they dried, like so:
Here is my finished product, I just love them! Hobby Lobby has an AMAZING assortment of papers to use & you can decorate them any way you want, this would also be a fun project to do with little ones (: