Jewelry Organizer...
Ok, so my organizational skills are almost non-existent...with that being said, I decided to start with the bedroom. I have BIG plans on trying to get my clothes..jewelry..all of my, and I quote from my husband: "50 gallons of lotion" (haha), & shoes ORGANIZED! My husband, bless him, gave in & turned the walk-in closet over to me & my madness...I give him MAJOR kudos & 59,000 GOLD stars for that one! (: So to make an incredibly rambled story short, I decided to start simple & start with my jewelry. Since getting married & finally moving in together, we have 2 of some things & he had this silverware tray that was a little too bulky for our drawer, so I stashed it away under the sink...I just KNEW I would find a use for it one day...AND I DID!
*This is what you'll need:
(Wooden silverware tray, spray paint, scrap-booking/craft paper, scissors, glue pen, pencil, hanging hooks)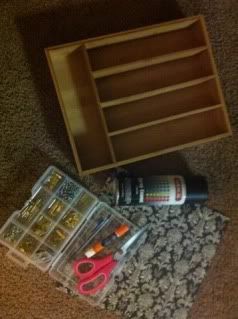 *How To:
Start by cutting your craft paper to fit inside the slots on the tray, then mark where you want your hooks, I went ahead & made holes where I wanted mine so it was easier to screw the hooks in AFTER the paper was glued. Spray paint with your choice of paint. When dry, use your glue pen to glue your craft paper in place & let dry. Now screw in your hooks...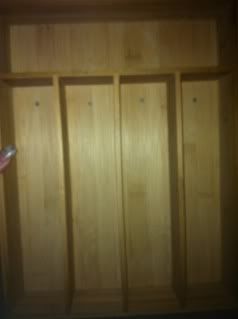 *And this should be your finished creation:
Waaa-Laaa! You have a cheap crafty jewelry organizer!