Semi-Homemade EASIES
T Chicken Pot Pie
I am ALWAYS looking for new recipes to try & experiment with, I found this recipe some time ago, back when the hub's & I were dating...when he would come down to see me on leave, I liked to get new recipes & cook for him. (home cooking is MUCH better than chow hall & MRE's...or so I've heard! haha.) So, I found this one day & decided to try it due to his liking of potpie & my desire for simplicity! It turned out to be a "WIN" with his tummy & its simple & easy, so I find myself making this at least once a month.
..most of this I already had on hand, I found the chicken on SALE for $4.59, & the rest, being wal-mart brand, cost me under $10 for dinner & its made to serve about 8, but if you have TWO famished soldiers that seem to never be full (LOL), it'll feed them + me! My thoughts are always the same watching them eat: "HOW DO THEY EAT SO MUCH & WHERE DO THEY PUT IT?"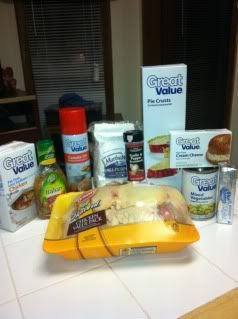 1lb. chicken, boiled & shredded beforehand
1/4 c. italian dressing
2 Tbsp. flour
2 refrigerated pie crusts
1 can veg-all
garlic pepper salt(to taste)
1/2 pack cream cheese, cubed
Butter
Cooking spray
1/2 c. chicken broth
**How to:
Preheat oven to 375'.
Start by placing one of the crusts in the bottom of your ungreased cooking dish & prick generously with a fork along sides & bottom.
Place crust in oven & bake about 5mins or until crust golden around edges then remove from oven & set aside. And while that is baking, start your filling by adding your chicken to a medium pan sprayed with non-stick spray over med-high heat. Add in the italian dressing & seasoning to taste, & saute chicken for 2mins. Now add in the cream cheese & stir until melted good. Then add in the flour & stir until well mixed. And lastly add the veg-all & broth, stir until well mixed.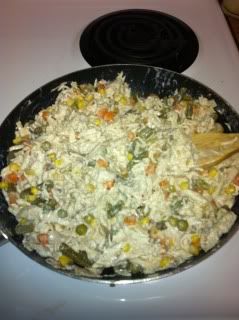 Now take your dish with the baked crust & rub with butter, this coats it & creates a seal so your crust doesn't get soggy when you add your filling (: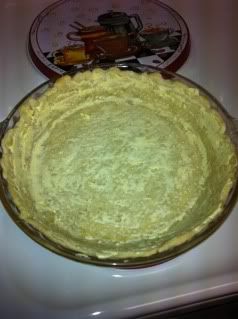 Spoon in your filling then place the other pie crust over the top, fluting edges & cutting slits on top for venting..you can make up a simple egg wash & brush over the top too if you like. I usually do, however, these hungry hooah hippos were "starving" haha, so my finished picture will not reflect the little bit of shine the egg wash gives the crust...Bake your pie @375' for about 20mins or until crust looks nice & golden.
This should be the ending results...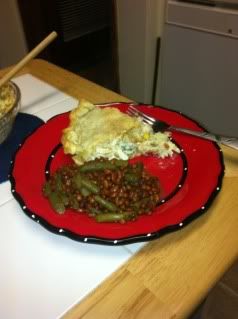 YUMMM, YUMMM, BON APPETIT!!! (: