When you're military, you're always moving around... You're far from home... You don't always get to go home for holidays, or birthdays, etc... So, you make the best of the situation and you invite your Army Family over to celebrate together, because that is just what you do! I have to admit I have been blessed to have met some really awesome people, and no matter what direction the Army decides to take us, I know we'll all always remain friends. We have that "Army Family bond". Lol. So many good memories made and they are some of the best memories that I can honestly say I've got! From dinner dates, game nights, and unimaginably crazy parties (like our NYE/Birthday party for instance...lets just say there was a fireworks war in the backyard that videos proved to look like an old war video through the smoke and it literally took us two weeks to get all of our birthday cake out of our house. And I'm pretty positive there is probably still some champagne in the crevices of our living room ceiling fan)... And mini-getaway trips, much like this one!
The Aloha Zoo is a little zoo made up of all sorts of animals that were rescued from terrible situations... there was a camel that had been
bought for a nativity scene, then after the holiday was over, the people simply did not want it anymore.....?.....
Like, really, people?! HOW
can you do that?! It's just, SAD!
But I am so happy that these animals are here and happy, rather than the conditions they were in before they were rescued! And I am so glad that we decided to go with our best friends and their son (we adopted him as our army nephew, lol) because even us adults got to enjoy feeding the animals and did I mention we even got to go on a "safari ride" and got to eat old fashioned shaved ice?! I think we probably had more fun than little man did! Here are just a few quick shots I got as we toured the zoo and fed the animals!
Even Mr.Hooah enjoyed feeding them, don't let him lie to you...Haha.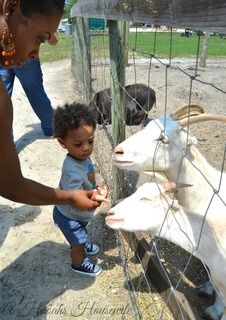 Little Man & Mom feeding the goats! He wasn't sure what to think lol
There were Peacocks...
A giraffe!
These guys....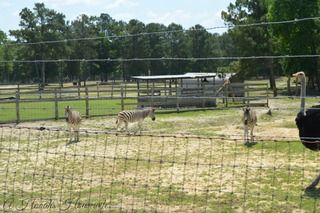 And Zebras (room-mating with an ostrich that had an obvious attitude problem)...OH MY!
And then this little guy was BRAVE & wanted to pet the python before the safari ride!
Little man gets it honest tho, because his dad was brave too! (I said HECK NO, in case you all were wondering! HAHA!)