I have been making all sorts of healthy changes and swaps to our weekly menus, Mr.Hooah is a tricky one to please as you all know! I have been all over Pinterest looking for different healthy recipes and I finally found a new one that we hadn't tried yet. I have had several different versions of "taco pastas and fiesta pastas" over these past few years and some of them were the same but this recipe is not the case! I have tired several recipes from over at EmilyBites and I can honestly say that I have never ever been disappointed with anything I have made from there. Her recipes are amazing! And this is one of those amazing recipes! It is cheesy, filling, and easy-peasy. I don't know about you, but that is everything I like all rolled into one! Lol. You can find her original recipe here Cheesy Taco Pasta since I did things a bit different (i.e. the corn, greek yogurt, and ground turkey)! Mr.Hooah surprisingly loves this too, which is great because this is a sneaky way of tricking him into eating something healthy lol.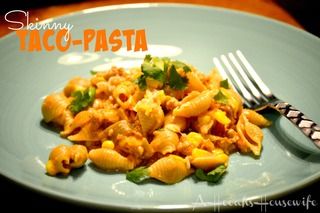 (Sorry for the pic quality, this was done via phone, I didn't have time to break out my camera!)
Taco Pasta
8oz wheat pasta (I used Barilla medium shells)
1 lb ground turkey
1 tsp. garlic
1oz packet reduced sodium taco seasoning
1 can corn, drained
1 ½ c. chunky salsa
½ c. water
¼ c. plain greek yogurt
1c. mexican style shredded cheese
Salt & pepper to taste
Cook pasta according to package instructions.
While pasta is cooking, place ground turkey in a large skillet and cook over medium-high heat, breaking up the turkey as it cooks. After turkey is browned, add in the garlic and cook one minute more then drain any grease from pan. Add the taco seasoning, salsa, water and corn, reduce heat to a simmer. Simmer for 5 mins or until pasta is done cooking.
Once pasta is done, drain pasta and add it to the meat mixture. Add the greek yogurt, cheese, salt and pepper and stir to combine well. Remove from heat and serve immediately.