THIS HEAT THO!..... ugh, seriously the heat here in NC is ridiculous! I don't even want to imagine what it is like back home in the south! With that being said, on my last bi-weekly grocery trip, I cheated... I bought stuff for really quick meals, like, "sandwich" quick! As my family back home says, "It's catch what you can night"...haha, like every night this past week. However, even with the heat, I decided to cook Mr.Hooah a yummy Fathers Day dinner and we were not disappointed! This recipe was adapted from over at Plain Chicken! I made some changes to the recipe for us, so it would be a little healthier and it made our sauce a little less thick, but it was still delicious all the same! If you absolutely love chicken as much as we do, then you definitely need to swing by Plain Chicken and check out all the awesome recipes they have! This is a short post, I need to be cleaning instead of blogging today...we have family coming in this weekend and I am SO stoked to have not only my Aunt here, but my Uncle is coming too! I do have a special treat though, I think I am going to be doing a house tour for those of you who are interested! ATM, finishing the guest bedroom upstairs is my top priority before the Aunt & Uncle get here, so that will be a post all on its own lol.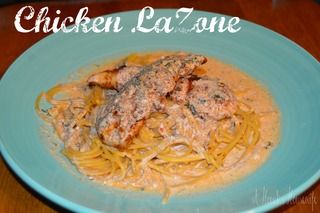 1/2 tsp salt
1 1/2 tsp chili powder
1 1/2 tsp onion powder
2 tsp garlic powder
1/4 tsp cayenne pepper
2 lb chicken tenders
1/4 cup light butter, divided (I used Move Over Butter)
2 cups heavy cream (I used Half & Half)
Your favorite pasta (I used Hidden Veggies spaghetti, Mr.hooah never even noticed!)
Combine salt, chili powder, onion powder, garlic powder, and cayenne pepper. Sprinkle over both sides of chicken tenders.

In large saute pan, melt half of the butter over medium-high heat. Cook the chicken tenders until done, about 8 minutes. (I cooked mine with some minced garlic)
**Meanwhile, cook your pasta according to directions on the box!**

Pour the cream and remaining butter into the skillet. Lower heat and simmer until the sauce thickens, about 5-7 minutes. Serve chicken and sauce over your favorite pasta!