Nothing says summer like BBQ, am I right?! Mr.Hooah and I pretty much love ALL THINGS BBQ so this recipe was a must try back when I first found it... Where? I am not quite sure, but probably on Pinterest. And I'm sure that I already know what you're thinking..."ROOT BEER?!" And the answer is, "YES! ROOT BEER!!!" Sounds like an odd combo huh? It kind of is, but it is actually really delicious. And I know this may not be a new recipe for some of you guys, but I thought I would share it since we love it so much. I know there are different variations of sodas you can use, some people have used Dr.Pepper. I, however, am a HUGE root beer fan, so I was sold at Root Beer! Lol. Most of the root beer flavor cooks out and the soda actually helps tenderize the meat. And when it is time to eat, all you do is drain the meat, stick a hand-mixer (I'm old school, I prefer breaking out the ol' hand-mixer rather than dragging my Kitchen-Aid off the top of our refrigerator lol) in the crock pot with the meat and in a quick minute or two, Viola! pulled pork!!! We eat ours with coleslaw, I guess it's my Southern roots, but a scoop of slaw on a good BBQ sandwich is just where it's at! Haha. Even Mr.Hooah eats his the same way now and we all know how picky he can be! This is easy peasy and with only three ingredients, that's right, I said THREE... I highly recommend you give it a try because you can just set it and forget it!
-XO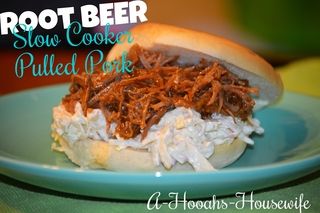 Please forgive my photo quality, the site I use has started reformatting the photos :(
Slow Cooker Root Beer Pulled Pork
1 small pork shoulder (or whatever you prefer, we use Tyson pork shoulder)
1 (2Liter) bottle of A&W Root Beer
Your favorite BBQ sauce
Turn on your slow cooker so it can start heating up while you're prepping everything!
Rinse the pork and then pat dry with a paper towel. Spray slow cooker with non-stick spray. Now you can place the pork in the slow cooker and season with your favorite seasoning if you're a "seasoner" like myself! (I have become obsessed with Tony Chachere's cajun seasoning...I have been putting it on everything like Mr.Hooah puts hot sauce on everything!!!)
Now comes the root beer! I usually use about half the bottle but it all depends on what size the pork is. You want it to almost cover the roast but not quite.
Cook on High for 4-6hrs or you can cut it down low and let it go all day! When its done, drain all the juices off and then shred it up, add BBQ sauce, and there you have it!