I honestly have NO idea where on earth I got this recipe years ago, but I decided to give it a try. The only other Salisbury steak I have ever had was the kind out of a box from the frozen food section LOL. Every night before payday, I sit down & try to plan out a dinner menu for the next 2 weeks because it is SO much easier than trying to figure out what to have from day to day. Although, I sometimes swap out a meal if there is something the boys & I would rather have different than what is planned for that day. I try to keep an open mind about what to fix & am ALWAYS looking for new recipes to try so we don't get tired of having the same ol' same again & again! When I ran across this recipe I wasn't sure how it would really turn out & I had in my mind that it would taste almost like the one's I had previously eaten...however, it did NOT. It was actually better, then again imagine anything is better than the cheap t.v. dinner ones! *snickers* It's simple, easy, & the boys liked it so I will be cooking it again for sure! It definitely has a home-cooked southern country-ish type taste.
1 1/2 lb. ground beef (I used turkey)
3/4 c. onion, thinly chopped
2 pks. McCormick brown gravy mix
Preheat over to 425'.

In large bowl add meat, onions, stove top, & water. Mix well.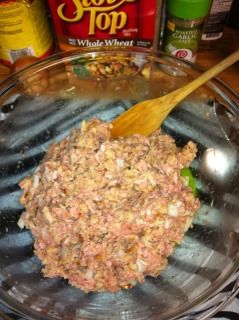 Pat out 6 patties & place in a large baking dish or pan sprayed with non-stick cooking spray.

Bake in oven for 30mins or until cooked through. (During the last 5-10mins I broiled them so they were nice & brown on top)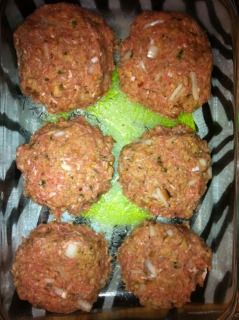 Meanwhile, saute mushrooms in a sprayed non-stick pan until tender then remove from pan. Add gravy mix to pan & cook as directed; mix the mushrooms in with the gravy.

Spoon gravy over steaks, keep warm until serving.
I transferred mine to a smaller dish due to table space...