I had to re-do this post due to some kind of complications or glitches blogger was having atm...so, I will keep this one short & sweet! (: I've been SUPER lazy, so on my menu plan the other day, I had down my aunt's baked spaghetti pie...SO, that takes time & everything is home-made...yeah, about that, lazy means LAZY! haha! So I went with my laziness & what I had on hand to cut corners & I came up with this recipe! Me being part italian, I ALWAYS have pasta & sauce on hand, so with chicken tenders in the freezer..I started whipping up this concoction that turned out pretty darn YUMMY & it was SIMPLE & QUICK!
Baked Chicken Parm Pie Cheat!
1 pk. breaded chicken tenders
2 cans spaghetti sauce(I used garlic & herb by Hunts)
1 pk. wheat spaghetti noodles
1/2 c. grated Parmesan cheese
1 Tbsp. italian seasoning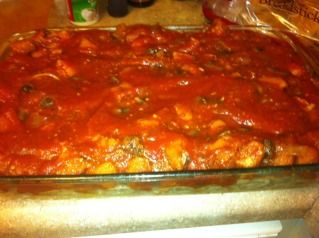 Preheat oven as instructed for your chicken tenders, mean while cook noodles as directed.
Cook chicken tenders time instructed...cut into bite size pieces & set aside.
After draining pasta, place back into pot & mix with egg & parm cheese, toss lightly then press into a large non-stick sprayed baking dish.
Mix sauce with chicken tenders...(I also cooked a medium chopped onion with chopped mushrooms & added to the sauce) with seasonings, then pour over noodles. Top with mozzarella cheese.

Bake @ 350' for 30mins of until cheese melted & bubbly.