This is an easy recipe that I found when going through all of my VERY unorganized recipe clippings...I was trying to find something new that I have never cooked before & THIS was the recipe! I was iffy about the spinach because Mr. Hooah isn't exactly a '
green
' type of man, but surprisingly, he too, loved this one! To me, it didn't have enough heat to it (no offense Zatarain's), so I added crushed red pepper, some additional cajun seasoning, & also a Tbsp. garlic salt! And of course Mr. Hooah & I drowned it in Frank's RedHot Sauce(: This was deeeeelish, HEALTHY, & I will definitely be making this one again!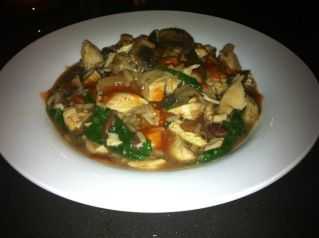 Cajun Chicken & Rice
1 medium onion, chopped.
1 box Zatarain's Red Beans & Rice
1 green pepper, diced
(I used a cup of mushrooms because I didn't have the green pepper on hand)
2 c. cooked chicken cubed or shredded
6oz. bag of fresh baby spinach
1) Heat a little oil in a large nonstick skillet. Add onion & pepper, saute until tender.
2) Stir in rice mix & the amount of water instructed on the box, bring to a boil. Reduce heat, cover & simmer 7 minutes or until rice is tender.
3) Stir in chicken & spinach. Cook, stirring, just until spinach wilts.
--Serve with hot sauce.