I have been working my booty off trying to lose this extra weight I've gained.
Eating healthy, 6-7 miles on my treadmill daily, & living with 2 high-metabolismed soldiers...its NOT "easy"! Oh & not to mention my jealousy of not possessing the same metabolism genes that they do...("Skinny as rails" as my Granma used to say!) They can devour a whole coconut cake & not gain a pound, me on the other-hand, I can just look at it & gain 5lbs. Haha! So, a lot of the things I post that look all scrumptiously delicious, most of that is cooked for the boys & I grill me something healthy on my handy-dandy George Foreman Grill. <--That man gets MAJOR praise from me for that invention! (: As usual, I've managed to ramble a bit, so to the point of the following recipe...I LOVVVVVE
pizza! Give me a huge overloaded slice of cheesy greasy goodness please!!! I can't have it as much as I would like because no matter what you try to change on a piece of pizza, its still unhealthy. So to appease my craving, I decided to make a pizzeria pasta recipe I found out of an old Cook Healthy cookbook. It is healthier than pizza with only: 168 cals, 4.2 grams fat, & 24.9 carbs! It's a definite winner in my book & it sure is yummy! The boys love it too & it would be great for the kiddo's also, & best part is, its EASY!(: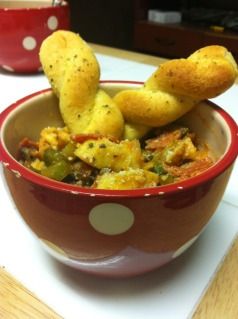 (this is a double recipe)
2 (9oz) pk. fresh cheese tortellini
1 medium chopped green pepper
1 c. fresh sliced mushrooms
2 (8oz) cans no-salt added tomato sauce
1 can sliced black olives
1 Tbsp. Italian seasoning
1 Tbsp. garlic powder or salt
1/2 c. grated parmesan cheese
Cook tortellini according to package, omitting salt.

While pasta is cooking, coat a medium non-stick skillet with cooking spray. Place over medium-high heat until hot; add peppers, onions, mushrooms & saute until tender. Stir in seasonings, olives, pepperoni, & tomato sauce. Cooking until heated through.

Drain pasta & place in serving bowl; add sauce mixture & cheese to the pasta & toss gently.