For those of you who read here, already know that I'm always, always, always, looking for & trying out new recipes! And this is one that I wanted to share, since pumpkins are still lingering about & nommie comfort foods are still in full demand! I adapted this from The Six Sisters'!
And I assure you that their recipes do not , & I repeat, DO NOT
disappoint! On a recent trip to the pumpkin patch with our pup Kizzie, we picked up our porch pumpkins, a 'baking' pumpkin, & even let our wittle wookie(the pup) pick out a mini-pumpkin suited to her mini-self! Haha. I'll admit, though I love me some pumpkin..usually in pie form of course..I honestly didn't know what to expect of the taste! I just thought it was such an awesome idea & most definitely something outta the 'NORM'...so I whipped up this mysteriously fun 'Dinner in a Pumpkin' & it was a smashingly good hit with Mr.Hooah & myself! It's something different & fun. And it isn't a heavy dish like most comfort foods would be, but there is something VERY warm & homely about this delish dish..oh & did I mention it is pretty darn HEALTHY too?!?!
1 Medium pumpkin*
1 lb lean ground turkey
2 cups brown rice
1 can condensed cream of chicken soup
2 cups chopped veggies (celery, onions, green pepper, sweet potatoes, mushrooms, etc)
1 T soy sauce
(**I myself, added minced garlic to the veggie sauté!)

Cut off the top of the pumpkin and thoroughly clean out pulp and seeds
Preheat oven to 350 degrees - Saute veggies in large skillet. Add meat then brown.
Add Soy Sauce, soup, and cooked brown rice - Mix Well
Spoon Mixture into cleaned pumpkin shell. Replace pumpkin top and place entire pumpkin on a baking sheet.
Bake 1 hour or until inside meat of the pumpkin is tender
After you scoop out the yummy stuff inside.. don't forget to scrape out the insides of the pumpkin! It tastes just like Spaghetti Squash!

*Check the size of your oven to make sure the pumpkin will fit*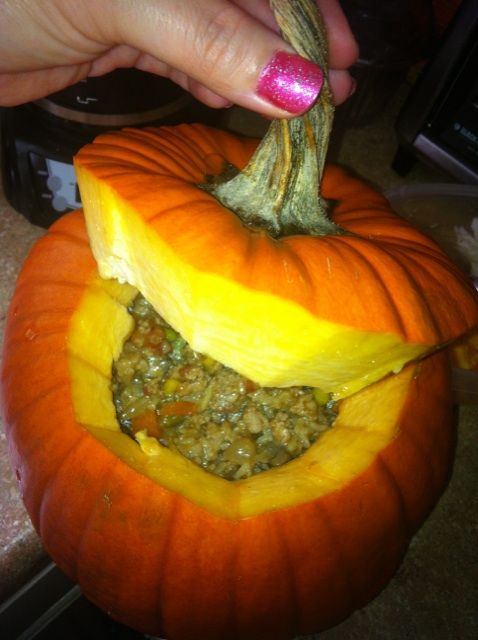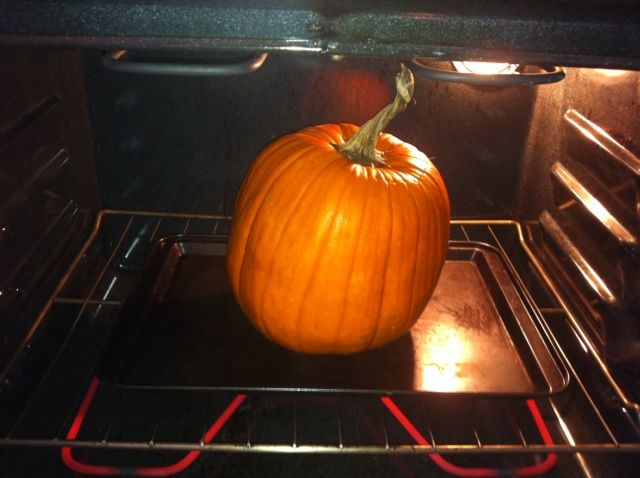 Please don't judge me for my unclean oven & my pumpkin seemed to be a little 'special'...seems that it was a little ghetto with its 'gangsta lean' bahaha!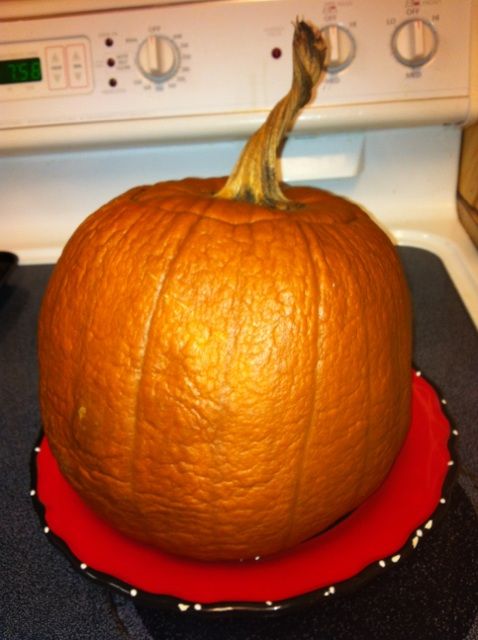 MMM! This was AHHHH-mazing! And yes, dont forget to scrap some of the pumpkin out when you scoop because it is most tasty! Nom Nom!(: