As we all know, Fall is knocking on the door! I have to say that even though I LOVE the fall, I'm kind of sad to see summer go! So, as summer continues to wind down, we've been BBQ'ing, A LOT! And I have a new BBQ sauce that I recently found over at Grilling Companion & wanted to share! This Blueberry Barbecue Sauce is not only easy peasy but DELISH too! It is something Mr.Hooah & all of our friends had never had before, & though it sounds kind of weird, we were NOT disappointed! We used it on our grilled chicken & turkey burgers, so I imagine it is good on any grilled meat. It has a little kick with the cayenne pepper (we put extra), & though it may sound like it might be super sweet, it isn't. It's the perfect amount of sweet-savory-blueberrines.. haha! I definitely say, that while blueberries are still in season & you can get them fresh, you need to try this recipe! However, if I get a craving for this in the winter months, I'm thinking it won't hurt to cheat & use frozen blueberries! It was definitely a hit at our Labor Day BBQ!
-XO! XO!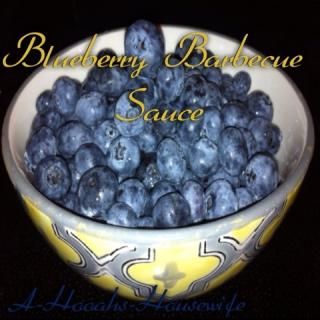 Blueberry Barbeque Sauce
2 c. fresh blueberries
1/2 c. balsamic vinegar
1/2 tsp. kosher salt
2 TBSP. red onion, roughly chopped
1/2 tsp. cayenne pepper
3 TBSP. ketchup
3 TBSP. sugar
2 cloves garlic, roughly chopped (I used 1 TBSP. minced garlic)
1/2 tsp. Worcestershire sauce
1 tsp. chili powder
Combine all of the ingredients in a medium sauce pan & heat over medium-high heat.
Once you hit the boiling point, turn the heat down & simmer for about 15minutes, until sauce begins to thicken, stirring occasionally.
Remove the pan from the heat & allow to cool.
Pour into a blender & blend until liquified.

Brush the blueberry barbeque sauce over grilled chicken, pork chops, ribs, burgers...& even serve some extra sauce on the side too!