I love baking sweets.... AND eating them! haha! I am not as active with the FRG (the Family Readiness Group, a "support/information" group at Mr.Hooah's job) as I should be, but when it comes to donating or bake sales, I always participate! I always make several batches of cookies, brownies, or cupcakes for the sale & Mr.Hooah always comes home empty handed, so I guess that means I'm doing something right huh?! I don't know where I get it from...oh wait, yes I do, my Aunt Sherry...but I LOVE to bake & I bake often! Just call me the Cupcake Queen! Haha. At one point I wanted to go on Cupcake Wars, but they probably would have laughed me off the set...I'm a Food Network Star in my own kitchen but when it comes to being a pro, I think it's safe to say they would list me as an amateur! Lol. I absolutely love this recipe I am sharing, mostly because Blondies of any sort are my absolute fav type of brownie/cookie bar! They're easy, you can throw anything & everything but the kitchen sink in those babies, & you just can't mess them up! I have been behind on the times apparently, because to my surprise, everyone these days (or per Pinterest activity) is using boxed cake mixes to "skip steps" on ingredients & to cut down on prep time...After trying a few cake mix recipes myself, I too, am now a believer! This recipe has been a good one to make especially for the bake sales on base for our battery functions... it is deliciously ooey-gooey & sweet. I honestly think they sell so well because the soldiers see the sprinkles & think it's something fancy...hmmm, maybe they are a little fancy with their ooey-gooey pretty colored sprinklie-ness haha. These are seriously fun for people of all ages & with only 6 ingredients, these are my go-to goodies for Mr.Hooah to take to work anytime!
- ~*.*~Sprinkly X's & O's!~*.*~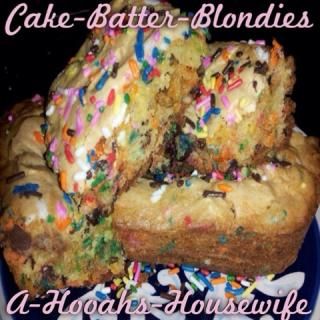 Cake-Batter-Blondies
1 Box yellow cake mix
1/4 c. vegetable or canola oil
1 large egg
1/3-1/2 c. milk (less is best)
1/2 c. sprinkles
1/2 c. white chocolate chips
(I also throw in M&M's sometimes, I honestly think you can mix in whatever you want as long as it will work with the recipe!)
Preheat oven to 350'...spray an 11x7 baking pan with non-stick spray, set aside.
Combine first 4 ingredients in large bowl, add milk slowly because you want the batter to be as dense as possible. Mix in the sprinkles & white chocolate chips.
Pour into the prepped baking dish, sprinkle a handful more of the sprinkles over top & then bake for 25-30mins until edges are just turning golden-brown.
***TIPS: Allow to cool at least 30mins so the center can set before cutting into squares. Also, do not use black sprinkles, it will turn the batter black!***