So, I keep seeing these moss letters everywhere & I have had it on my to-do list for a while & just now getting around to it. Since it was my 1st go at it, I didn't want to spend a lot of money because I wasn't even sure if I would like it once it was finished. I passed a big bag of Moss while in the DollarTree & decided, heck, why not! So I grabbed it, & a spool of ribbon. Call me Frugal-Francis, but I didn't even want to spend the dollar or two on the cardboard or wooden letters, so I cut up a cardboard box I received an Ebay item in & it worked just as well! I already had these frames(from the dollartree as well) stashed away here at the house so the total cost was only $2.00 & I'd say they look OK for crafty cuteness on the cheap! I'm going to be giving one to my Mom & Aunt when we go home for a week on Mr.Hooah's block leave! I am SOOO happy to be going home to see my family, I've missed them very much so & I know Mr.Hooah is excited STOKED to be getting a small break from playing army for 2 weeks! He says he's ready for the BBQ'ing, laying out by the pool with a few beers, sleeping in past 0400 & spending quality time with me...isnt he just the sugary-est? Haha. I will be MIA for a week or so...I'm literally from the sticks...cue the BANJO music now...joking. HaHa. So I will not have good net connection to blog!(:
$2 Moss Letter Frames
What you need:


Crafting Moss
Scissors
Glue
Cardboard
A GOOD pen!
Ribbon
Picture frame
First, draw out your letter shape however you like then cut it out & cover with glue.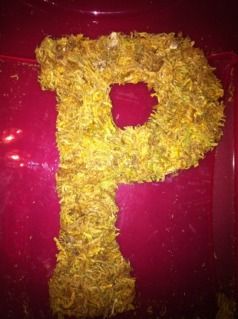 Cover the letter in moss & let it dry!
Remove the glass & backing off of your picture frame.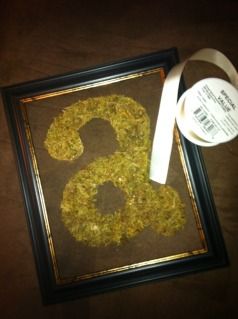 Now cut off the amount of ribbon you want to use; enough to tie a bow at the top & enough to make a nice tail.
Wrap the ribbon around your letter & attach to your frame.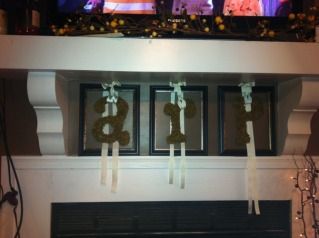 Here's my finished product! I was pretty happy how they turned out, I had a little more ribbon on one, it was the last on the spool & I hated to trim it down & waste the pieces. Made one for the Hooah house, one for Mom's, & one for the Aunt's house to take back home on Mr.Hooah's leave this week!(: