As I think Ive mentioned before, THIS lil' Korean, ME! has had such a horrid time sleeping...Its almost feels like a bad Stephen King movie but with the title Insomnia. I CANNOT seem to get in bed early & sleep the whole night through...like now, I am up @ 0230 & I'm only a tad bit sleepy & I've been going at it all day. I'm extremely restless, hot, & uncomfortable! So I decided that since I have been slacking, I needed do something good with my awake time & post something! We LOVE green peppers & I honestly ALWAYS have these on hand because I put them in most everything I cook...along with mushrooms & onions. I try to make things we eat as healthy as possible & make it have a serving of veggies included...Mr. Hooah says that I own stock in those 3 veggies! HaHa! So tonight we weren't really in the mood for what was listed on our menu, so we switched it up & made this recipe that I got somewhere online..I cannot recall where but I know the original recipe is not one of my own, so KUDOS to whomever or where ever I got this one lol..I've been holding onto it for a while now & just getting around to cooking it.. this was DELISH & I tried to make it as healthy as possible & altered some items in the recipe, it still had just as much flavor & we all really enjoyed it & it was super simple!
Undone Stuffed Pepper Casserole
2 large green peppers, chopped.
1(24oz.) can spaghetti sauce
(I used Hunt's Garlic & Herb)
1 1/2 c. Mozzarella cheese
---and I added 1 small onion, diced.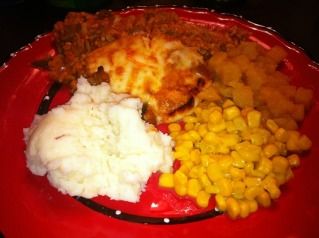 Yep, you guessed it, I also made Rutabaga's--top right corner...I passed by them at the commissary & was shocked to find actual Rutabaga's so far north, I thought it was only an old southern thing, but there they were! My granma & I used to LOVE these, she'd pick turnips & cook these up too, however, Mr.Hooah had never had these so when I cooked them tonight, I got a GOOD laugh...I didn't tell him what they were I just put them on his plate & moved to the next item, when he sat down at the table he had a funny look & upon poking them around with his fork, asked: "Are these those.....Ru-Chu-Coop-Rah-Cod-Uh's?!?!" BaaaaaaHaHa...I have NO clue where he got that, but, OK!....the sister & I nearly had him wearing our Lemonade!
Heat oven to 350'.

Brown meat, garlic, & veggies..drain.

Stir in sauce, rice, & 3/4 cup of the cheese.

Spoon into 2qt. casserole dish & top with remaining cheese.

Bake 25mins or until cheese browned.