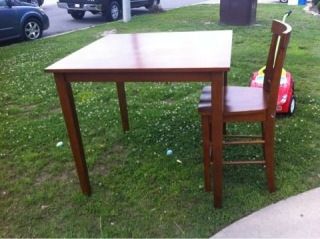 So, as I mentioned before, I am ADDICTED to Craigslist...when you are stationed on or around a military base, you would not believe the DEALS you can find...mostly from people moving in or moving out. I have been looking for a larger kitchen table for our dining room...when I lived all Miss Independent, my kitchen, actually my whole house, was EXTREMELY small...so with that being un-exaggerated-ly said, I just had a two-person breakfast table, that we decided to save money & reuse since it was mainly just the two of us & mostly because he has been living in the barracks since he graduated & joined the Army when he was 17...so thank god I had all of the house furnishings! Lol. I have adapted a serious addiction to Craigslist & I usually check it in the mornings while I drink my coffee. I have been meaning to post this & several other re-do's that I have been up to, since..........well, yeah, FOREVER ago & am just now getting around to it...yes, I know, shame on me! ;) Any ways, here is the high-table I found for $30 because it only had 3 chairs, that's why she asked so little for it!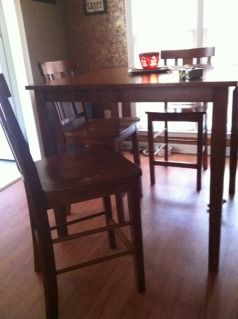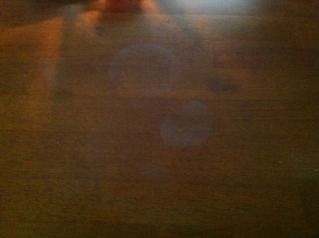 I honestly can't believe I found this for only 30-buckaroo's! I must say, that definitely needed a little TLC & I was more than happy to volunteer....well at first anyways lol...it became a MAJOR pain.. ooooh the words I spouted out that the garage may never recover from...& I'm pretty sure at one point I may or may not have actually gave it a kick! I wanted to do a quick tabletop fix so I found Krylon Hammered Metal & I tried that...from my sister not shaking the can well enough, the color at the bottom of the can left a huge color mark...so then I thought I could camouflage it by using some of the pewter metallic faux glaze I had left over...so I painted over & wiped & painted over the spot some more & it was HORRID, then with spiteful defeat, I said to heck with it & decided to just spray on a clear coat & call it a day...& whatta ya know, this table wasnt finished with me...the clear coat was blotchy & at this point, I for sure recall telling Mr. Hooah to help me chunk it out by the curb, obviously he refused haha!(: So another trip to Lowe's & 3 coats of polyurethane later, I'm pleased to say that I actually love the way it turned out...it kinda has a dark wood-grain look with a bit of shimmer & I went with a customized black on the legs & also on the chairs. Its just perfect for our lil dining area! Mr. Hooah also threw in a "See there, you made it awesome, aren't you glad we did'nt chunk it to the curbside." hahaha(: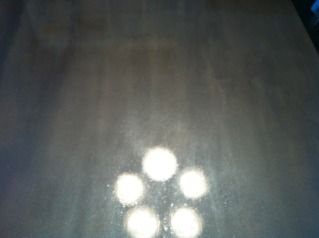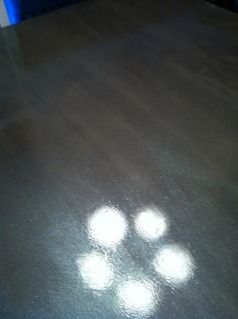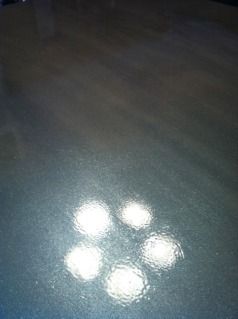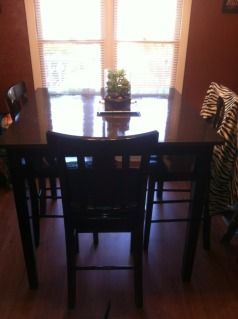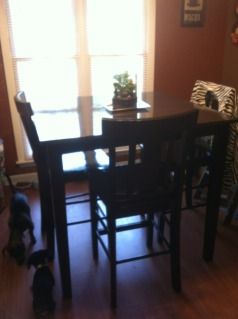 And of course, the pups had to make their day-view in the pics too lol...