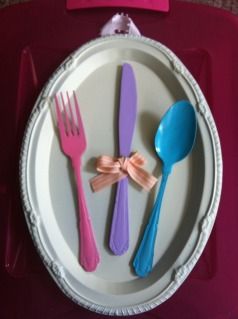 I have SOOO many new ideas for the new house that I had to start writing them all down because I couldnt keep up with all of them! Lol. I know its going to take me a little time to get to all of them & get them done, but eventually I will! But for now, its the simple stuff! I am re-doing my new kitchen in shabby chic-cottage-french-country style roses & sweet pinks & pastel type colors & cupcakes! So while going through a box of craft things I ran across these serving platters I bought at DollarTree for a project gone bad & I decided to just save them for another time! I saw a really neat idea & my inspiration on homemade shabby chic kitchen decor here @:
http://ginkelsey.blogspot.com/2011/07/shabby-chic-kitchen-decor.html
After seeing it, I book marked it & wrote it down in my notebook...when I saw the trays I immediately thought to use them in this little project & make this my own way! And here is how I did it & how it turned out! Pretty stinkin' cute if I do say so myself! Mr.Hooah even admitted they were "cute" even tho he may not admit it to anyone else haha!(:

What You need:


How to:
Paint your flatware(I got mine @ Dollar Tree for $1 each set) on some old newspaper or plastic,I had to do 2 coats.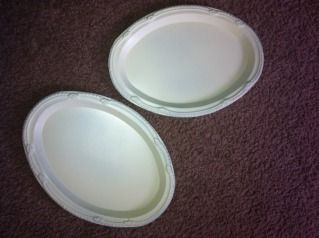 I used Krylon Ivory Satin & sprayed 2 coats over my recycled platters.
This is what your flatware should look like after it drys! SO adorb, right?!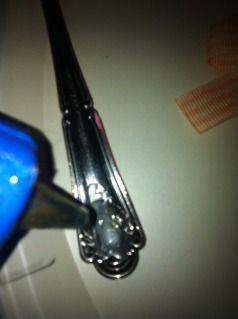 Now hotglue on the bottom & top of the back of the flatware & place it on the platter. I would arrange it how u want it on the platter before gluing so you can see how you like it best!
Take some ribbon & make a hanging-loop.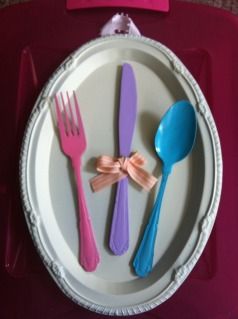 I also added a bow to a piece of flatware!
Now how darn CUTE are these?!?! Finished cute shabby chic, CHEAP & adorable kitchen decor! Cant wait to hang this up in my new kitchen, it means something to me to have created something cute, fun, & colorful to add to our new home! (:
I also linked up here:
http://bowdabrablog.com/2012/05/19/saturday-showcase-craft-projects-2/
AND SOOO STOKED TO BRAG ABOUT THESE BEING FEATURED HERE @: