I dont know about you, but I try to recycle as much as possible...for crafting lol, NOT so much for the going green environmental purposes...how terrible does that make me sound? Now that my secret is out, I want to ask: "How many of you save those plastic cool-whip, chinese take out, & butter containers? Whatta bout empty wine bottles, spray bottles, cans, dishwasher detergent bottles? And last but not least, PLASTIC GROCERY BAGS?!" Well last night, as I was frantically swimming head first through a large MASSIVE amount of plastic grocery bags under our kitchen sink...my husband, Mr.Hooah, had snuck..(I was just reminded of my southern-ness by the obvious RED squiggly line underneath the word stating that 'snuck' is apparently incorrectly spelled, or even better, DOES NOT EXIST as an actual word haha)..up behind me & was watching in a state of complete confusion with his arms crossed...not even concerned that I could be drowning in a sea of plastic...I heard him exhale...what could have ither been a sigh of relief that I came out alive or a sigh of dismay because of all of my 'not-so-useful-at-this-moment' junk thats crammed under the sink! I say: "What?!" & he replies with a devilish smile,"I just realized my wife is a hoarder"! Hahaha!
I am one of those people that leaves my trash bags in the bottom of the bathroom can because Mr.Hooah is notorious for not putting another bag in after taking out the previous...so, I thought that leaving the roll of bags in the bottom would help him remember because, call me crazy, but it is a HUGE pet-peeve of mine to later on come back into the bathroom & notice that someone has thrown stuff into the trash can without a bag in there!
So, on a link-up I ran across this amazingly cute & FREE way to make a dispenser for the bags here at:
Small Home Love
And here is how I made mine, my way (: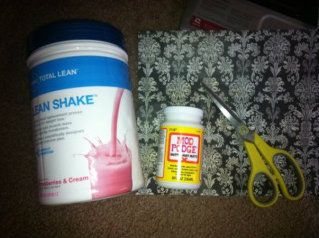 I used a recycled GNC shake container, ModgePodge, craft paper.
I gave it a quick shot of Ivory spray-paint,even the lid & cut a hole for the top.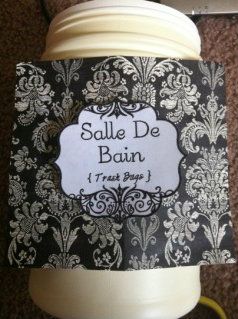 Then I did as Small Home Love
did, & printed out a label (I used photobucket's editing program & added the text above, Salle De Bain means Bathroom in French), then cut it out & cut
the craft paper to use as a background like so.
Now you modge podge it on there(: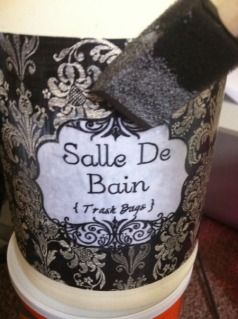 Thin layer over the top to seal.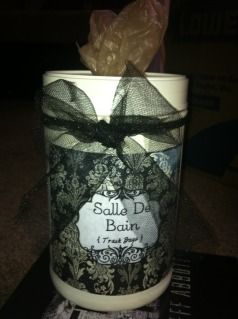 And here is the finished product...Oh yeah, I added a bow because, well, EVERYTHING looks cuter with a bow! Haha! (: