I have been rather crafty lately because we will be moved completely next week & not inbetween houses, THANK GOD! Though I'd like it to be during the week, I find it highly unlikely with my soldier hooah'ing at work all week, THEN we will be taking leave to go back home with our little pup in tow, to see my sister graduate high-school & mi familia! With all this new house-ness & moving & redecorating, I have been renewing & upcycling things...A while ago, Mr. Hooah brought me a WHOLE BOX full of 8x10 matted frames that a buddy in his unit was just going to throw away! <---one soldiers junk is another soldiers wife's crafting treasures! Haha! Excited was an understatement! So I have been using them here & there & this is what I came up with thus far!
I did these over our bed(using the instructions below) a while ago when we first moved in together because we didn't have a lot of money to go crazy decorating
& they turned out pretty cute...
Now at our new house, I couldn't figure out what kind of pictures on the cheap, that I could get for our bathroom that will be grey & painted with lyrics around the huge mirror, so I had some leftover scrapbook paper & these awesome little black frames & put my creativity to work & came up with these!
HOW TO: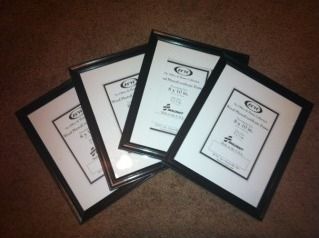 USE A FRAME WITH MATTING...
USE THE MIDDLE AS A TEMPLATE TO CUT UR PAPER,THEN GLUE IT TO IT...



I REALIZED THE MATTING WAS REVERSIBLE, SWEEEET...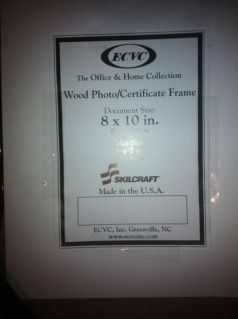 NOW PUT THE MIDDLE BACK & TAPE AROUND EDGES...
SHOULD LOOK LIKE THIS,NOW FRAME IT!



NOW YOU SHOULD HAVE AN AWESOME FRAMED PICTURE THAT WAS SUPER EASY & LOOKS PRETTY DARN NICE! I'M HAPPY WITH IT BECAUSE IT DIDN'T COST ME A PENNY & NOW I WON'T NEED TO SPEND MONEY ON PICTURES! THE BEST PART IS I CAN CHANGE IT UP WITH DIFFERENT PAPER($0.59 @ HobbyLobby!) ANYTIME I WANT!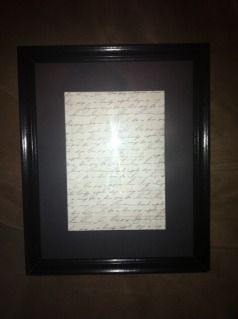 ---I apologize for such not-so-lovely picture quality, lately, I have had to use my phone, my camera charger is MIA, most likely packed somewhere in the forest of boxes! lol (: