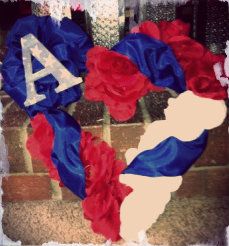 So, as you know, I am an Army wife so I love the colors red, white, & blue! I found my inspiration of this little project a week or so ago & decided that I wanted to make myself one of these for our front door. Upon doing so, I decided that since Mother's Day was right around the corner, & I liked to make personal gifts for Mother's Day, that I would craft my Aunt thats like my 2nd Mom & Mr.Hooah's Mom one as well, since she is an Army Mom! (: What I like about this wreath is that it can be used anytime for us, because we are just showing our patriotic pride of one of our own, but it can also be used during the month of JULY(which is only a month & a 1/2 away!) to show our Independence Day pride & support for all of our troops! I did not make mine precise to my inspiration I had seen, I went with a heart shape, used cheaper quality roses due to the quantity I had to make(I also had to use blue ribbon there in place of blue roses, I went to walmart, hobbylobby, & $1 Tree looking for some blue but only found carnations...obviously there was a short from the manufacturer OR blue roses are in popular demand right now lol), & so I improvised & did mine differently to make it my own! I intend on making another bigger one for our door thats like the original one I had seen, just pressed for time trying to construct the extras & get them mailed off to different states so they reach their destinations on time for Mom's Day! Anywho, it was just a simple little craft that I put together in a bit of a rush, but they turned out pretty cute if I dont say so myself! (:

What you need:
Elmers glue or modge-podge, hot glue gun, scissors, & a pen or pencil for tracing.

Here we go:
Pull roses from stems first & then hot glue them down on the back of your wire frame. Rotating a few red, then a few white. (And if you can find blue ones, then u can glue those at the top left instead of the ribbon)...
Now, construct a bow, I used one standard spool of wire ribbon & made an 8-loop bow & glued it to the top left corner like so (do not cut the end of the ribbon off!):
Then wrap the end of the ribbon left around the wreath & hot glue in place on the back

...
Now you want to flip over your star craft paper (found at hobby lobby in the scrap booking section, I used a vintage american flag star pattern) & trace around your letter with a pen, then cut it out. Glue or Modge-Podge the paper onto your letter & let it dry.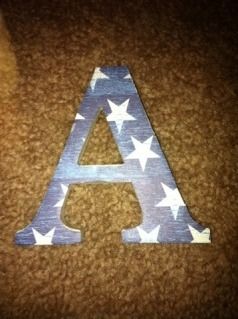 When dry, hot glue to middle of your ribbon.
Then u can use floral wire or a pipe cleaner & make a hanging loop on the back side & hot glue it down...
And Viola! Your done & this should be your finished product: