I cannot tell u guys just HOW much I like LOVE a good seafood chowder! Then again, I am a lover of mostly everything seafood-shellfish-ish, minus Eel(yuck-o)...then sushi being my favorite! Haha. I live in NC within driving distance to 2 beaches, oh, maybe both about 2hours max away & so we have access to some pretty amazing & fresh seafood! Whenever I would go to Florida on vacay or anywhere with a coast, I like to order seafood gumbo, soup, or chowder because if you lived somewhere like I did, slap dab in the middle of nowhere, stuff like that made FRESH was hard to come by! However, when I felt in the mood for chowder , I have to say that in settling, I would grab a can of Campbell's Chunky Style 'New England Clam Chowder' lol. On this wide array of blogworld, do not ask where or how I found this awesome blogger who loves food as much as I (it mustve been FATE!), but I remember seeing the seafood chowder recipe she posted & I immediately bookmarked it! So, with my laptop on the counter by my stove, myself & my fat cat nearby licking her lips at all the tasty seafood, gave it a go! It turned out DE-LiSH & Mr.Hooah had TWO 2nd helpings! (:
I altered the recipe & made a spin-off of my own but you can find the original recipe here @:
http://flavorsbyfour.blogspot.com/2011/12/seafood-chowder.html
Here is my spin-off:
My Easiest Seafood Chowder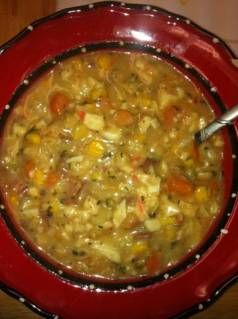 1 c. clam juice:
(I was too lazy to cook & shell 4lbs of clams for the broth & meat so I just used this to get the clam flavor..lol)
1-2 lb. fresh shrimp,cleaned/de-veined/tail-off, chopped
2 c. crab meat, cooked.
1/2 pk. smoked turkey bacon, chopped
2 carrots, chopped
1 medium onion, chopped
1 c. frozen whole kernel corn
1 small pk. frozen red potatoes, chopped
1 teaspoon, salt
1 tablespoon, celery salt
1/4 teaspoon, ground black pepper
1 teaspoon dried thyme
1 tablespoon cajun seasoning
3 cups 2% reduced-fat milk
3 tablespoons all-purpose flour
2 tablespoons, chopped parsley
1 c. chicken stock
1/2 cup water
Cook the bacon in a large sauce pan with a little EVOO, until crispy. Drain on paper towels. Reserve the liquid in the saucepan. Also cook the shrimp in the saucepan, about 6 minutes or until pink. Set aside with the bacon.
Next, saute carrots and onion in the sauce pan with the drippings over medium heat for 5 minutes or until tender. Add reserve clam juice & water, potatoes, corn, salt, celery salt, black pepper, thyme, parsley, cajun & bring to a boil. Reduce heat and simmer, uncovered, over medium heat for 8 minutes or until potatoes are tender.
Meanwhile,whisk together milk and flour in a small bowl. When potatoes are tender, transfer the veggie mixture to a large pot and add the milk mix & your meat mixture to the pot as well and bring to a low simmer about 15-20mins or so; be careful not to boil. Stir occassionally!*** (the hubby wasnt off work yet so I just set the heat to low-warm & it cooked for about 35mins to an hour & was just fine!)***
Serve with oyster crackers or bread.