Despite the exclamation point at the end of the title, I understand that this might not be the most exciting post, but I can say that it is helpful! When it comes to asparagus, do you know how to shop for it? It's kind of funny looking, how do you even tell if the asparagus you pick up is even "ripe" or "any good"?! Well, I have the answer to that! Did you know that when it comes to shopping for asparagus, you should always check to make sure that the store has taken good care/keeping the asparagus fresh, by keeping it on ice? You also need to make sure it is firm to the touch.. And most importantly, the freshest asparagus is the bunch with the most purple color in the tips. The more purple the tips, the better! When it comes to groceries Mr.Hooah & I make 2week menu plans & usually we have asparagus twice.. to keep it fresh until I use it (which is within the week I buy it) I do these the steps below!
Keep It Fresh!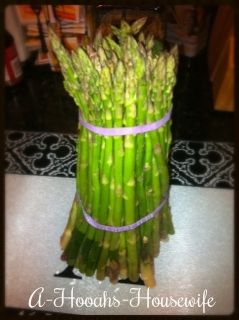 See the purple tinge in the tips? Good bunch!
Wet a paper towel, wrap around base of asparagus.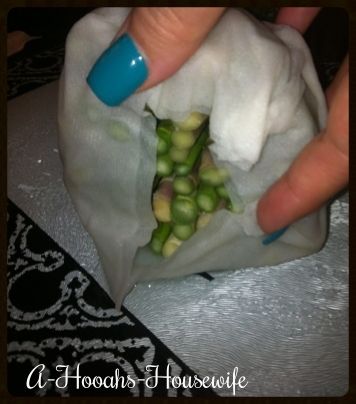 Now fold the bottom over...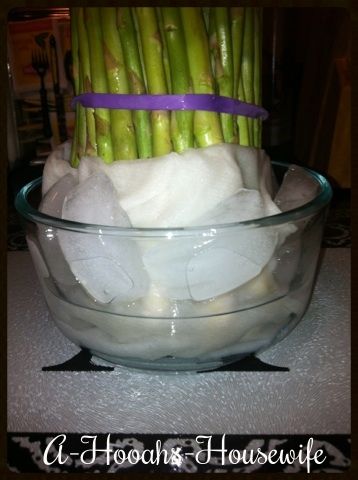 Fill a small bowl with a little water, set the asparagus in, & put in some ice!
Stick it in the fridge, when you get the chance & the ice melts, just pour a little of the water off & add a little more ice! Simple as that! Oh, & are you wondering why I have zebra print in my refrigerator?! They're placemats, so that when something spills, it catches it, so when I clean out the fridge, all it takes is a quick rinse off or wipe down of the mats! Something to cut my cleaning steps down! :)