Ok, all my Military Wives, Girlfriends, Milso's, Spouses...I have recently stumbled upon an AWESOME new website for milso's made by a Coastie-Wife, Angela, at LovelyVenture! Rate My Station is a place where you can review your next PCS station & get all the info, opinions, & answers you may seek. It is fairly new so there may not be a lot of info on there just yet for a certain station, but imagine how awesome it will be if we all share what we know on there! I think it is a wonderful idea to help all milso's because sometimes we are crunched for time or are not able to travel the distance of the PCS before hand to scout out the area... now it can all be seen/told by the click of a button!
That's pretty awesome-sauce I'd say!
Anyways... The link is just below so stop on by, add what you know, help out other Milso's! ;)
Share some info!
Mili-wives, always a step ahead so we can be ready for anything!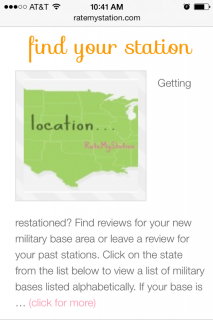 This is going to be sooooo very helpful!