Mr.Hooah & I, we like to read. I read more than him, however, if a book intrigues us, we buy it. Sometimes we read them half way through then lose interest or we just don't get around to reading them at all & they sit around our house collecting dust as decoration! I think we have a problem because we have A LOT of books that are 'decorations'... compulsive book buyer disease, maybe? Haha. Any who, sometime last year, we went into Dollar Tree & we passed the little book section they have towards the back & a book caught my eye. Now don't criticize me because I don't have any kiddos but the recipes/tips in the book is why I got it: The Mommy Diet, by Alison Sweeney, host of The Biggest Loser. I thought, hey, it's only $1! (besides that, it had a $24 price sticker on it, so I consider that a deal lol) Oh & not to mention, I love Alison! I cook with a couple of recipes out of this book & the Vegetable Curry Soup is one of them! TWEAKED BY ME THOUGH, OF COURSE! I add in chicken & instead of pintos I opted to use chick peas because they're full of protein & I hate pintos... Most curry's are full of not so good for you ingredients & some are super heavy & fattening, but this is a colorful, flavorful, lean, clean, yummy light soup that is filling & super good for you!
Now how can you feel bad about that?!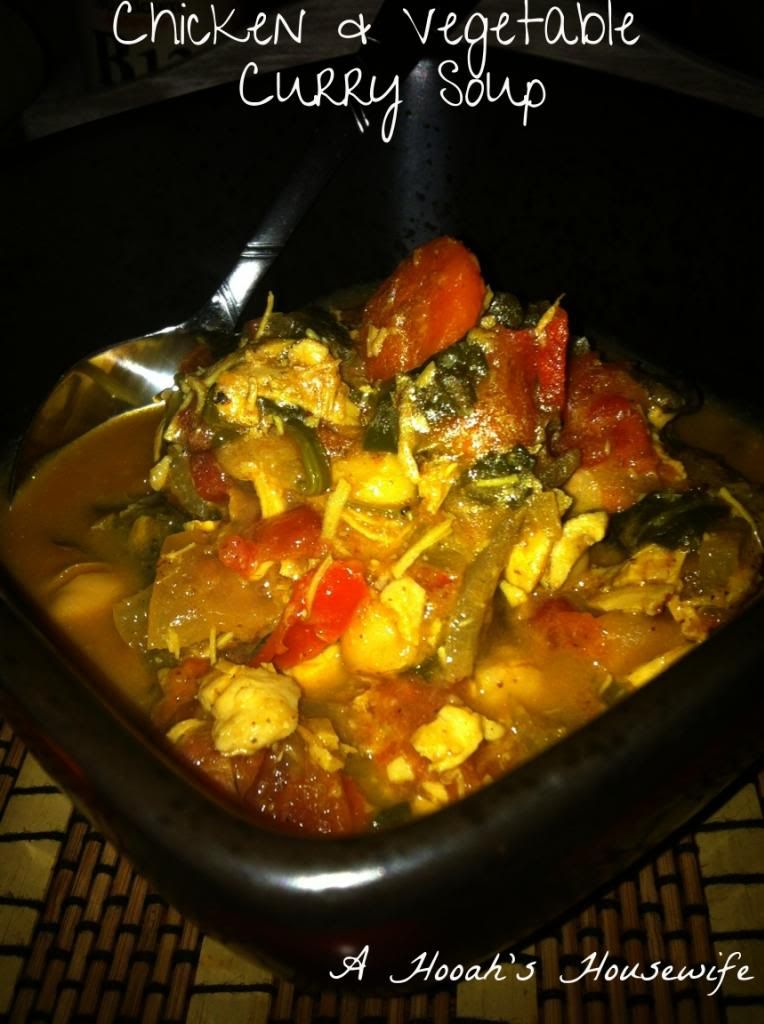 What You'll Need:
1-2 TBSP EVOO
1 1/2 c. chopped red onion (about 2 medium)
1 large red(or green) pepper, chopped
3 carrots, chopped
3-4 stalks celery, chopped
1 TBSP minced garlic
1 TBSP curry powder
1(14oz.) can diced tomatoes--I use Hunts fireroasted garlic
2 Bay leaves
1 box chicken stock
2 cans chicken, drained-- I give mine a rough chop
1 can chick peas, drained
1/4 c. creamy or crunchy peanut butter--I use almond butter
1 bunch cilantro-- I just tear off the top & roughly chop
1(6oz.) bag baby spinach, roughly chopped
1/2 tsp. salt
Dash or two of black pepper
Heat EVOO in saucepan (less mess is my motto, so I just use a pot to do this in so I won't have other dishes to clean lol) over medium heat. Add onion, bell pepper, carrot, & celery; saute until veggies are soft/onions are translucent.
Add the garlic & curry; saute until fragrant, about 1minute (do not burn garlic). Add the tomatoes & bay leaves, cook uncovered until the tomatoes slightly reduce, about 3 mins or so.
Add chicken & the stock, bring to a boil. Reduce heat & simmer for about 8-10minutes. Add chick peas & peanut butter, stir to combine. Add cilantro & spinach, cook until thoroughly heated & spinach wilts, about 2minutes. Season with salt & pepper.
TIP: I will say that it isn't a very "soupy" soup, you can add more chicken stock if you like...We usually have a good bit of this leftover & after it sits, the liquid absorbs so I usually just add in more chicken stock & reheat.