Me being half Korean & Mr.Hooah having a strong love for all foods Asian, I cook A LOT of fried rice(made with quinoa instead of rice) & stir-fry. And when he's really been good, I make homemade sushi! I have tried some recipes for Asian inspired crock-pot meals & I just wasn't a fan! However, this Orange Chicken recipe must have crossed my path on pinterest 100 times or more! I finally broke down, got the ingredients & made it for dinner tonight! I mentioned that I swapped out brown rice for quinoa a while ago but I thought with this, I would just serve it with white rice...so for Mr.Hooah, this was a treat! Haha! I have two words for this recipe: 1) Surprised & 2) DELICIOUS! I was seriously surprised that I liked this so much & Mr.Hooah had no complaints three bowls later ither! I always get General Tso's Chicken or Orange Chicken when we go out for Chinese, so this was right up my alley! Also, in my own opinion it is healthier because the chicken isn't fried. The sauce is saucy & the orange marmalade gives it just that right amount of brightness. It will definitely be on our next menu plan!
Crock-Pot Orange Chicken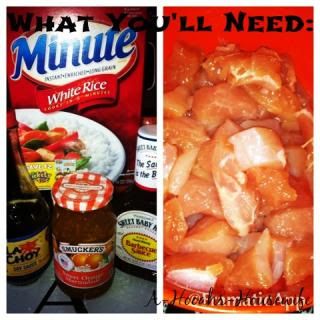 4-5 Boneless Chicken breasts, cut up into bite-size pieces
3/4 c. Smuckers Orange Marmalade
3/4 c. Sweet Baby Rays BBQ Sauce
(I added 1 tsp. minced garlic also)
(I also sprinkle with sesame seeds...MMM!)
Cut chicken into bite-size pieces, place in the crock-pot & cook on high for 3hrs, then drain the juices off, return to crock-pot.

In medium bowl, combine all other ingredients & mix well.

Pour the BBQ-Orange mixture over the chicken & cook on high for 30 more minutes & serve with/over rice!